(If you were looking for all the great song downloads, and graphics and stuff, it's here: www.lagoononline.com)
A little bit everyday, says the Empress
So, @LagoonMarisa and I (Jake, you know, the bass player, the one in the band that has to write stuff since my instrument is the most dispensable) headed home to Arizona to visit our parents. It seems we left just in time, because tropical storm Danny came by and smacked Massachusetts. This allowed @Davidtornado to get a ton of work done on one of our new songs. Everything else "band related" is going really well, but nothing specific really to report.
So what I got for your entertainment is a story. Yes. A story. It is story time. Go grab your milk, find a comfy spot, and enjoy. And then after story time I'll give you some pictures from the trip.
Ricardo, The angle of Sky Harbor
It is amazing to me that most airports do NOT have free wireless…
Boston's Logan airport? Nope, gotta pay…
Chicago Midway? Nope, gotta pay…
The only airport that was kind enough to lend me some internets was Sky Harbor in Phoenix Arizona. Now, the interesting thing about this is that in order to gain free access you have to fill out a small survey. The survey asked you to name a Sky Harbor employee and then say how they helped you in some way… Here was my dilemma: no employee had helped me. Alas, my desire to check my faceybook and mespaces pushed me to fabricate a man. This man's name was Ricardo, and he is one amazing man.
(Note: I actually submitted this  fictional survey.)
Please take a moment and tell us about an Airport employee that has helped you during your stay here at Sky Harbor.
Employee's Name: Ricardo
And in what way did He/She help you:
              Agitated and in need of relieving myself, I entered the men's bathroom on the B concourse located in terminal 4. Two minutes earlier, a snippy airline teller had told me my flight was canceled, and during the plane transfer my bag had been ripped open, leaking my expensive dress socks all over the runway. I was almost too flustered to speak, and I am sure you could imagine that I was feeling less than confident in Sky Harbor's ability to safely transport me to my destination.
             As I finished up in the bathroom, a prim dressed bathroom maintenance man handed me a paper towel. He looked at me with kind eyes and asked me what was wrong. I explained to him my story, and in a soft voice he said, "is ok, Ricardo is here." Now, I am sure you can understand how this was extremely awkward, but as he bent down and mended my bag with thread from his cart, all my fears were allayed.
              This man was an amazing listener. With every soft motion he made feel better about my trip, and how I was headed to El Paso Texas to mourn the death of my Grandfather. Here was a soul who has spent G-d knows how many years cleaning up trash and bodily filth, yet he could still connect with me on a personal level. I realized I had over 4 hours until my next flight, and I was determined to spend it with Ricardo.
                      Ricardo slowly pushed his cart through the terminal, pointing out the lesser-known facts about airport life. He told me about the drama he's seen, celebrities he's met, and lovers he had in moments of passion and on which seats. At one point, when he bent over to pick up a Burger King wrapper, I swear the piece of trash jumped at his fingers, as if possessed with desire to touch Ricardo's outstretched arm.
                  We stopped at a newsstand aptly named "PhXpress," and with a wink and a smile he coaxed the attractive attendant to give me a book and a pack of gum. I felt as if he was a political figure, a mayor even, Ricardo the Mayor of Sky Harbor. I tried to ask him about his family, and where he was from, but he only shook his finger at me saying, "no, no, no, you mustn't ask about Ricardo." I found his third person references charming.
                  Soon I told Ricardo that I had to stop walking. I had developed Plantar Fasciitis after a tractor accident in 1993, and the tendons in my ankle were far from capable of walking for so long. I found a clean seat to rest, took off my shoes, and massaged my injured limb . "May I?" asked Ricardo. "May you what?" I said back. Ricardo reached for my foot, and for a brief moment I resisted before resting my cold foot in his warm soft hands. He whispered something under his breath in a language I could not understand, and pulled a small bit of herbs from a pouch on his cart. After his incantations and a few brief moments of hard tissues massage he let go of my foot. I swear to you, to this day, I am able to painlessly jump higher than I ever could.
                I sat for a moment in amazement at this strange archaic medicine that had cured my condition, but as I lost myself in Ricardo's mustache I remembered my grandfather and slipped into a depression. "Is ok, friend, is ok," said Ricardo in a low calm voice. I soon realized that Ricardo had walked me to my gate, and I was sitting staring at a sign that read "Flight 1033 to El Paso." But how did he know? I never told him which flight I was on.
              A young tattooed man running down the length of the concourse carrying a purse suddenly broke my daze. Behind him followed a screaming lady tripping on her heels, and clutching to the railing for balance. In a flash, Ricardo stood up and focused all his attention on his green Indiglo wristwatch while again reciting words in a foreign language. At this moment, I found out that Ricardo could stop time.  Ricardo did not let me get a word out as he rushed me over to the frozen man, and grabbed the purse. We then picked up the hoodlum's lifeless body and placed him face down in a nearby trashcan. Before I could even breathe, Ricardo had again focused intently on his timekeeper, and I found myself staring into the tear-laden face of the gorgeous female victim.
                  When time again began (which I have to say is an expression I never though I would utter), everyone seemed a bit dazed. Cops in the background were arresting the trash-covered man, and the lady who now looked at me with gaping eyes embraced me and sobbed into my shoulder. She offered me a reward; I took none besides her phone number. Dumbfounded, I floundered over to Ricardo, sat down, and stared at the crumpled piece of paper. "what… what are you?" "I Ricardo," he replied with a grin on his face.
                     Ricardo then focused again on his watch, and I watched the hands of the big clock on the wall spin and the world whiz around me. In this moment, Ricardo and I sat in peace. He told me he loved me, and that I loved him. The clock stopped at 7:05pm, exactly 20 minutes before my flight was to leave. I looked down to see that I now had a blue pre-boarding slip, and that my ticket had been upgraded to Business Class. Ricardo and I only had a few seconds for a brief goodbye, and I told him I would never forget him. He only touched my hand briefly and said "Ten Tacos for a dollar." This cryptic phrase I have still yet to decipher.
               I barely remember getting on to the plane. I was so tired from my ordeal that I slept the entire flight. However, when I woke up taxied in the El Paso airport I turned on my phone to find three new text messages. The first was from the woman in the airport. She was moving to my hometown, would be living in the apartment next to me, and was waiting for my return. The second message was from my work, saying that I have received a raise due to the submission of a project I had yet to even finish. And t he third message was from my family, saying that my Grandfather was not actually dead, he was only rendered unconscious by quasi-deadly poison from a painful Texan spider. Thank you Ricardo. Thank you. Wherever you are, from the bottom of my heart.
Man, I  wish I was there to see their face when they read this. ha.
And here are some pictures from the trip to AZ:
I miss the Sunsets, not the heat.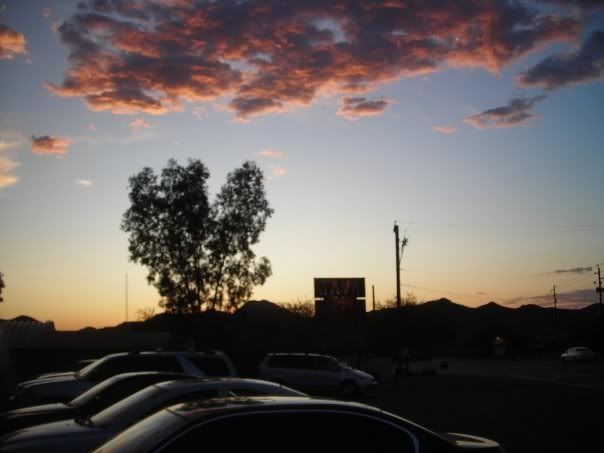 The view from the hill: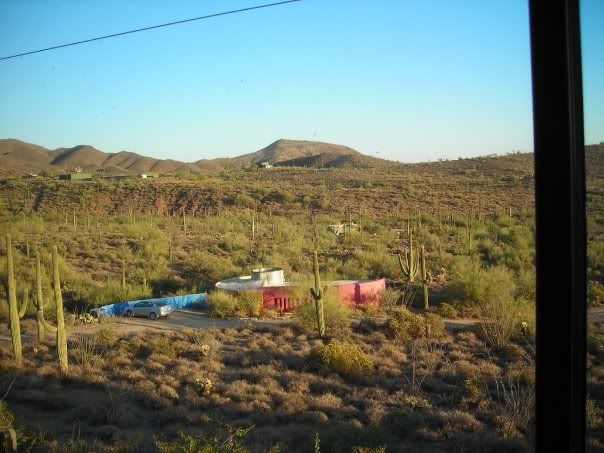 Me and My Crazy Dog: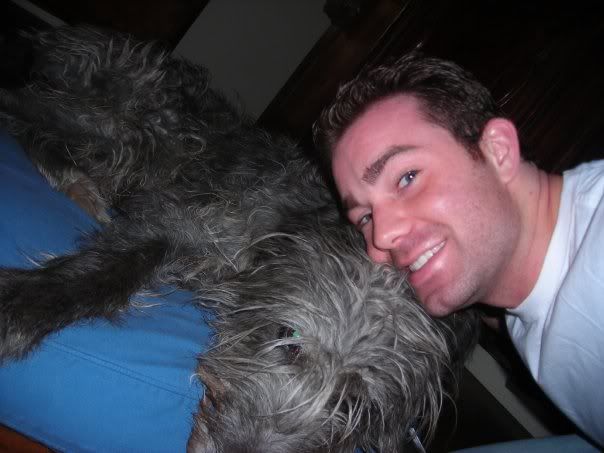 Marisa loves Whales, even in Arizona: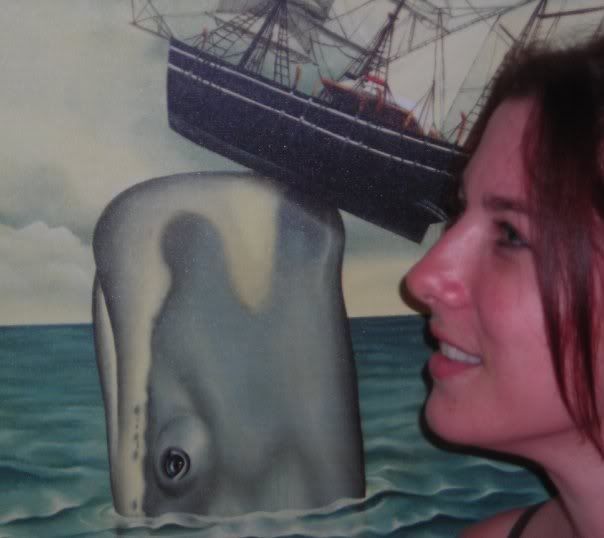 I love my mom: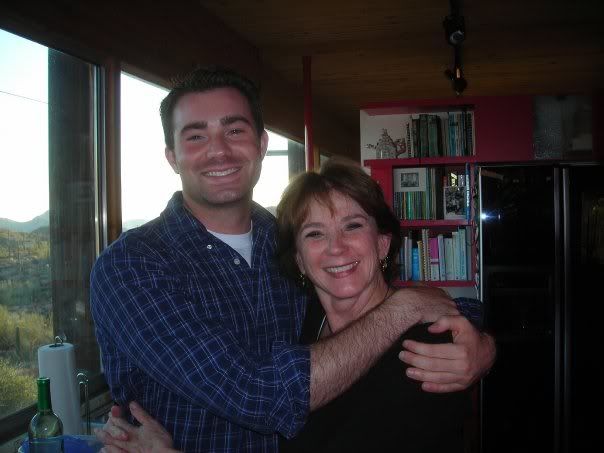 I miss mountains: