Normally I don't like to write blogs with any sort of theme. Those of you who read this are used to my frenetic and completely random style of "mind dump" I usually force upon you. This blog will be no different. Ha. What… did you actually think I would change? I WONT CHANGE FOR YOU OK!?
BAND NEWS
We got some great news. The second song in our stream of new music has been sent in to our digital distributor. Should be a few weeks or so, then WHAMMO it will be up on itunes, Amazon, and all that jazz. I think most of you will be pleasantly surprised at the different direction this song takes from our first Episode (Heater Rabbit). This song, entitled "This Life Owes You Nothing," will showcase more of a slower/melodic sound that Lagoon fans will recognize from our first album graduation (which is free for download on our site here).
Our 5th song on the album, "Straw Thief," is just about done being recorded, and is headed to LA for some loving this week, then on to be mastered
GO GO GO.
Those of you who are waiting patiently… oh sooo patiently, in regards to the progress of the music video, we promise we will update you the second we know anything. Until then… Wait… and cry.  ahahahha kidding… that would be sad… But let me say this… It's going to be sooner rather than later… Much sooner.
Five Things I am Happy Do Not Exist
I was watching Star Wars II – The Crap Wars last night in a semi-drunken stupor and I let my imagination roam. I really, for a moment, wished that I could have a light saber. I imagined the limitless applications for such a device: slicing ham, heating up a latte, opening a coconut, shaving, marble sculpting. However, I soon realized that most people, well EVERYONE without proper Jedi training would surely murder him or herself  in short order. So…I asked myself this… "What, besides lightsabers, am I extremely happy do not exist."
5. Ceti Eels – From Ceti Alpha 5, or was it 6?
No one likes a mind controlling brain parasite, and I venture to believe that Ceti Eels from Star Trek II – Wrath of Khan are the worst. They burrow through your ear into your brain, and eat all the stemmy mushy goodness available, not before you perform any order your master bids you.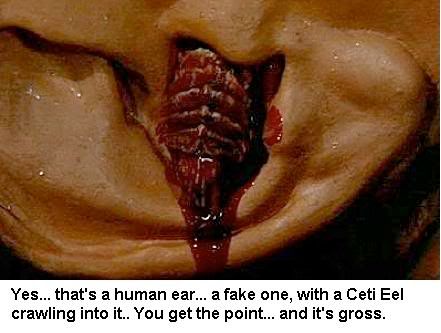 Anything good about them?
Yes, actually. Lets say you have an unruly younger sister and you want her to stop playing Jonas brothers and painting your dog's toenails. You just hold her down, drop a worm in her ear and PRESTO, she takes all of you orders… until the worm matures and she dies. But until then…
If they did exist, how would I get rid of them?
For this section I will defer to a blog I found regarding the removal of mind controlling brain parasites:  Get rid of your mind controlling brain parasites
4. The Rabbit – From Monty Pythons Quest for the Holy Grail
I still believe that this is one of the funniest scenes in movie history; a tiny, cute, furry rabbit completely RAVAGES fully armed knights by decapitating them. Hilarious… but… would I want such a creature to actually exist? No.
Anything good about them?
I really cant think of anything. I am sure they would find some useful applications in the war against terror. But aside from that, they would completely screw up the food chain. Rabbits eating eagles? Ok… Ya… Exactly.
If they did exist, how would I get rid of them?
The easiest way to depart a man-eating rabbit is by the use of a Holy Hand Grenade. Some other treatments, such as modern poisons, only seem to anger the beasts.
3. "Syncing" -From Avatar
For those of you who haven't seen the movie, I am going to spoil some things for you. Stop reading if you care.
There is something so intimate about pulling out your ponytail, exposing your wavy gross tentacles and connecting it to something else completely foreign. Wait… Intimate? I meant gross. The last thing I would want is my personal ideas being uploaded to the 'Tree of Collective Thoughts'… Uh… I would be banned from the community almost instantly. I know what you are thinking and YES, apparently the lanky smurf creatures actually use "syncing" to have sex, but that scene was banned from the movie (Banned Avatar Scene article)
Anything good about it?
Sure. You control or a horse, or a gigantic bat thing. Great. Wow. I would rather have a car, and an airplane. At least a car doesn't understand how I feel emotionally, and the whole community doesn't realize that it was me who took a dump in his hammock the night before.
If they did exist how would we get rid of them?
Apparently you gotta blow up the big life tree thing. Get a crazy scarred up general to help you.
2. That Heart Ripping Dude from Indian Jones – Temple of Doom
When I first saw this I was a kid, and I had nightmares for weeks. Just the idea of a crazy shaman guy suspending you from a metal cage and tearing your heart out… There is nothing more creepy.
Anything good about it?
Actually, I could imagine some amazing applications in medicine. You can remove a heart with almost ZERO blood loss, perform surgery while it's still beating and just… Well stick it back in. Other than that, it's all fucking evil.
If they did exist how would we get rid of them?
Luckily Indy took care of this guy by throwing him off a bridge, but seeing as though he is mortal, I would assume a gunshot would work. You just have to get to him, past his thousands upon thousands of insane heart-hungry followers.
1. Mordor- In General
Mount Doom, Fire, Orcs, and the embodiment of everything evil. In a modern world it would certainly be a place where no one could visit, a breeding ground for brainwashed citizens, a factory for world ending weapons… Wait… This is starting to sound a lot like North Korea but with a gigantic glowing fire eye.. However, I bet Sauron, unlike Kim Jong Il, was not able to get 11 holes in one… Yes… They do claim that. Yes… I do have a link: Kim Jong Il gets 11 Aces
Anything good about it?
Actually, considering it is a constantly erupting volcano, you could probably create a supermassive geothermal power plant on mount doom. I know… it's a stretch, but what else can come from a hellish desolate area like North Korea, I mean Mordor.
If it did exist, how would you destroy it?
First you need a few more things to actually exist (Hobbits, rings of power, etc…) but once you had those it could be done pretty easily with a helicopter.
Lagoon Featured Model: Mariel Gomsrud
Oh the models keep coming! ahhh! For the love of Seafoam. Oh just kidding. We love you models. This is Mariel, she also has a great site with more of her pictures, as well as, some feature she has been in. Check it out… oh ya… for you guys… she has a TWIN.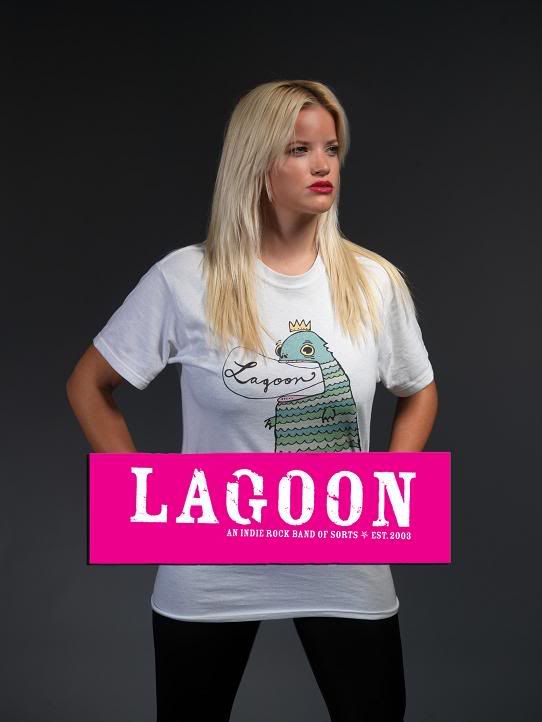 You can find more pictures on our facebook
We are going to keep a collection of ALL the models there for your enjoyment; for everyone's enjoyment.
We will be featuring one model per week until we run out of models… or weeks.
Thank you Mariel for… well just being beautiful… so thank your parents? well no, because it was you who took these pictures. So thank you.
As usual, Thanks to Vanessa Athens @VanessaAthens for putting this together, and to Hansel Tsai for your photography skills.
Check our store for frequently updated merchandise, and if you want the SEAFOAM shirt you can get them from Café Press here: Cafe Press
Do you like us? I mean… REALLY like us? Why not join us on our various social networks, or sign up for our email list on our homepage (no spam, only love… love spam… ahaha just kidding no spam)